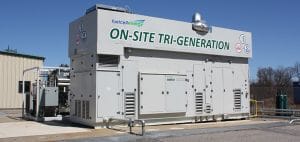 Industrial gas executives are asking critical questions about hydrogen: Is there an economical way to generate renewable hydrogen closer to the point of use, and reduce distribution costs? And can we then speed adoption of Fuel Cell Electric Vehicles (FCEVs), a potentially sizeable new market opportunity?
Stationary, power-generating fuel cells are helping to address these questions in the form of tri-generation, which produces power, heat, and hydrogen from the
same unit of fuel via an electrochemical reaction. Tri-generation fuel cell systems provide affordable and renewable hydrogen for both vehicle fueling and industrial applications, opening doors to distributed hydrogen markets.
Read More